"What on your playlist?"
Engaging Tweens & Teens
During Piano Lessons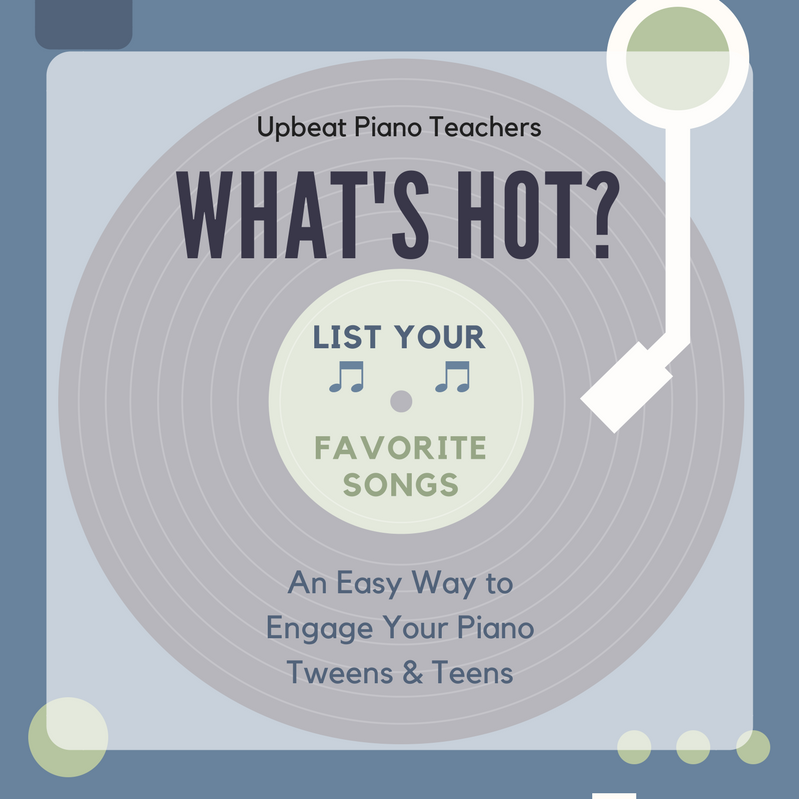 Have you ever asked your tweens and teens what kind of music they listen to in their spare time?

If you haven't, trust us... you're missing out! Building rapport with this age group can be tricky sometimes, but good teachers know that it's a vital step in the learning process. Try these questions:

What's on your playlist?
What are you listening to?
What's your favorite pop song?

Simple questions like these can build rapport and are a great way to create a conducive learning environment. And let's face it: knowing the music your student is interested in is basically like having Piano Teacher Super Powers.

(Pssst... and remember, you don't have to be a "pop teacher" to do a simple I - V - vi - IV!)

Download our free "What's Hot" listening list and send it home with your students. Let us know how it goes! Share a picture of your student's favorites list on Upbeat Piano Teachers Facebook Page!

Get your teens & tweens talking!
Knowing what music your teens & tweens listen to is half the battle in teaching them successfully! And no worries if you're not a "pop teacher." This is a simple way to get the conversation going!
It's all about connecting with your students and building a relationship!
First Name
Email Address
We use this field to detect spam bots. If you fill this in, you will be marked as a spammer.
I'd like to receive the monthly newsletter!
DOWNLOAD "WHAT'S HOT?"
Powered by ConvertKit