If you've thought of hosting a summer camp, but haven't started planning, toss the guilt aside. I've got you covered.
But you do need to start planning now. Like - TODAY!
Start by getting my free Summer Camp Checklist and then follow these 3 easy steps.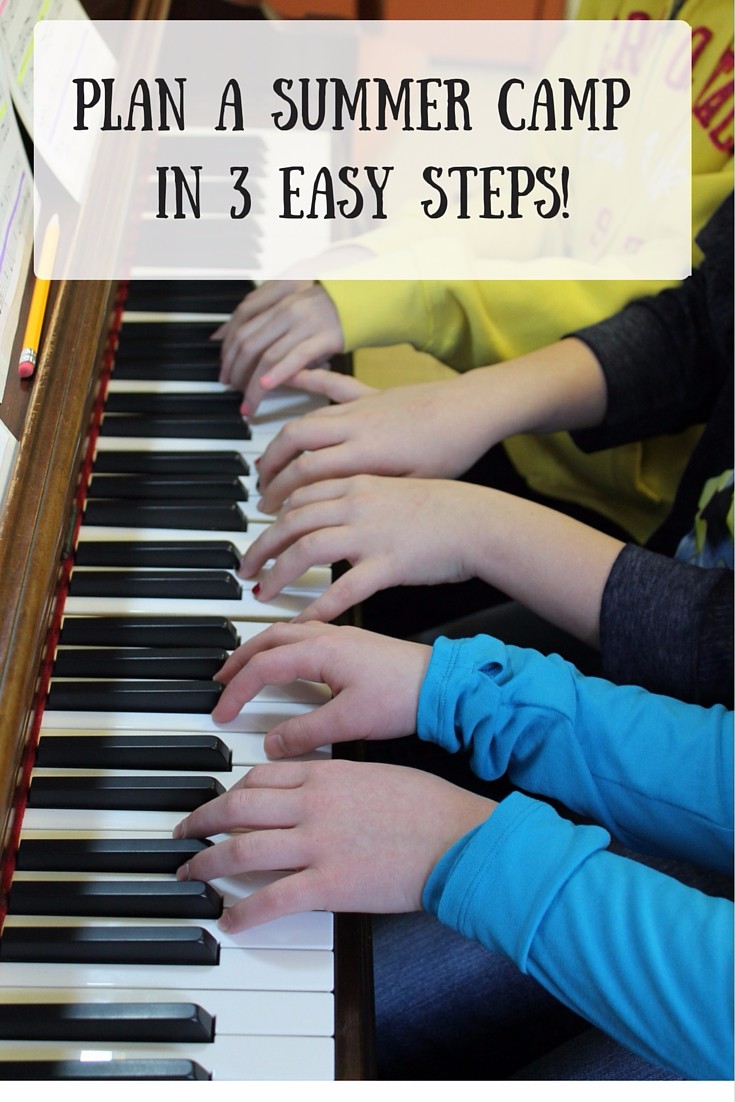 1. CHOOSE A GREAT PLAN
If you truly haven't started planning, then the smartest thing you can do is buy a plan. At this point, you need to maximize your time and purchasing a plan will save you hours. Sheryl Welles and Carol Ivkovich have created amazing camps that will get your organized and WOW your students.
(Sara Campbell has included her Music Blast Camp Plan for free as part of the Group Lessons 101. Cick here to check out the curriculum & resources!)
Note: Since you're getting a late start to planning, I would choose a general music theme as opposed to a piano camp. If kids don't need a piano background to attend your camp, it'll open the door for more children. (Perhaps your piano students AND their friends!)
2. CREATE GREAT GRAPHICS
You want your students excited from the moment they hear about your camp. The website Canva is the perfect place to make professional looking graphics. Best of all? You can do most everything for free.
Make sure the graphics include all the basic information: camp theme, dates, location.
But - also include some "fun" in there. Make it colorful! Toss in eye catching sunbursts and musical notes. You want your students to look at your flyer and think "I don't want to miss this!"
3. ADVERTISING IS EVERYTHING
No one will sign up for your camp if they don't know about it.
Create buzz. Start talking it up to your students BEFORE your advertising materials are put up. Guess what? I'm going to have the most AMAZING music camp this summer! I wish I could tell you the theme now, but it's still a secret. I'll tell you all about it next week!
Advertise everywhere! Here are some ideas to get you going:
Put flyers up in your studio.
Send a flyer home with every child.
Send an email to every family in your studio. Have online registration and make sure they know about your sign-up incentives. (See THIS BLOG POST for ideas.)
Consider advertising on FB. Since you can target specific locations and interests, this could definitely get some new students.
Contact other local piano teachers. When I started teaching piano and only had a handful of students, another piano teacher and I hosted a recital together. This could work for camps too! Or if the other teacher doesn't want to hold a camp, they might be willing to send students to attend yours. You'll never know if you don't ask!
Contact local music teachers at schools. See if they have any ideas of how you could get the word out about your camp.
Are there any small publications in your hometown? You might be able to advertise there.
Sometimes churches will put out flyers of local events. They might be willing to spread the word.
If you follow through on these 3 strategies, you should definitely have students signing up for your camp. Now all you have to do is finish the organizing!
All those steps are listed on my FREE Summer Camp Checklist! Click here to get free access!
(If you missed my post about sign-up incentives, click here to get some great ideas!)
---
Ready to jump into our most popular webinar? Group Lessons 101 is OPEN! And our teachers are ready to help you plan an AWESOME summer program for your students!
Get $5 off with code SAVE5 at checkout! (EXPIRES April 30, 2017)