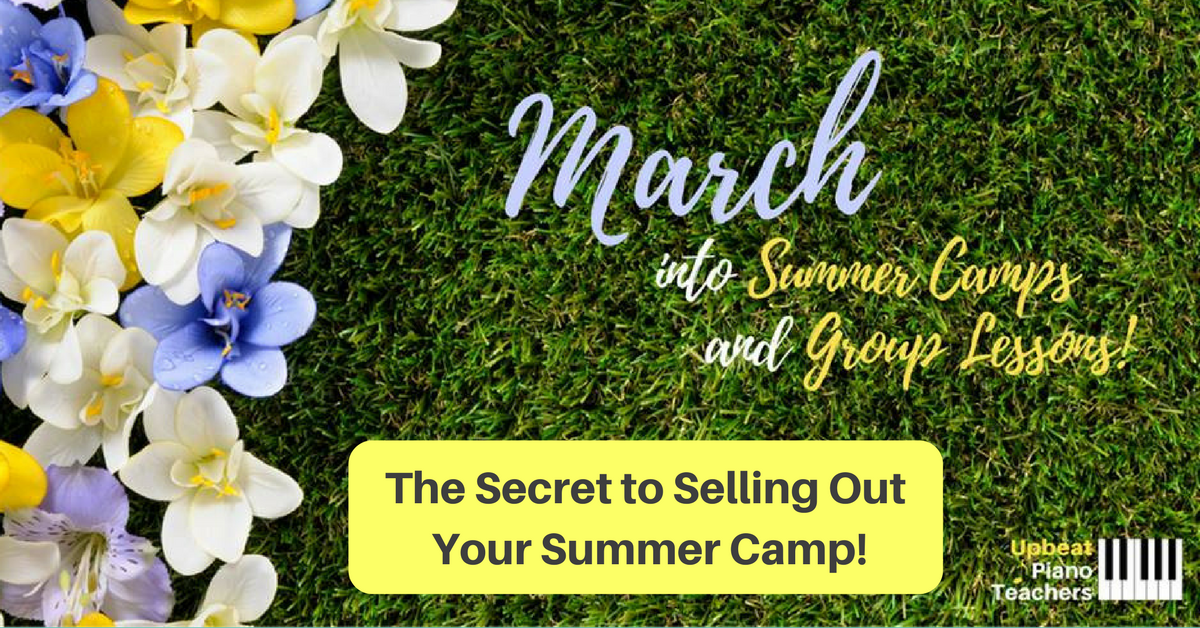 What's the scariest part of planning a summer camp? Doing ALL THAT WORK - only to have no students sign up. (Our checklist can help!)
Yes, it's a valid fear, but I'm here to share one of the best strategies to get plenty of registrations.
What's my secret?
By the time I send parents information about my camp, they already know about it.
Why? Because I spend several weeks telling students about camp BEFORE asking students to register.
Generating excitement will pay off. Big time!
MARKETING 101
Let's take a look at the entertainment industry.
The latest Marvel movie, Black Panther, just opened in theaters. This movie is generating crazy amounts of money. It hit a box office all-time record and the merchandise is hitting record sales too.
How did they do it?
They certainly didn't release the movie on a Friday night and "hope" people would show up. There was a clear strategy in place early on. They started marketing Black Panther MONTHS before it was released!
Basically - they got people excited. They made fans feel like they would lose out if they missed the movie. And it worked.
Piano camps are no different.
EASY WAYS TO GET STUDENTS EXCITED
Here are some simple ways that you can "play up" your camp before you send out those registration forms!
TELL students that you're excited - "I'm planning the BEST music camp this summer! You're going to LOVE it!" (Get our free checklist here!)

Ask students what they'd like the theme to be.

Get their input on what games you should play.

Find out if they'd like a 3-day camp or a full week.

See if they would like to invite their friends. (Then you could plan a camp where no musical background is required. You might also convince these students to take piano lessons with you!)
TIMING IS EVERYTHING
Remember - the key is doing this BEFORE you ask parents to register. It's the most simple, effective, and inexpensive marketing you can do. Best of all? It really works!
---
MARCH IS GROUP & CAMPS MONTH AT UPBEAT

To celebrate, we're offering a **special** for Group Lessons 101 - Enroll anytime in March, and get access to a bonus LIVE coaching with me (and Sara!) on Thursday, April 5th @ 11:30 EST!
We'll help you brainstorm your ideas, answer your questions, and get you PUMPED UP for camp season!
Can't make it to the live event? No worries -- submit your questions ahead of time and watch the Video Replay!
This special offer is only good through March 31st

. So don't wait to register! Click here to learn more!
And don't forget to grab our free Summer Camp Checklist here!
---
What Teachers Say About Group Lessons 101

"Just wanted to say how grateful I am for Groups 101. I took this course last spring - and it was life-changing! I recently went back and listened to most of the interviews again. Thank you so much, Tracy Selle and Sara Campbell for letting us view these videos more than once." ~ Kay Lowry, Owner of Kay Lowry Piano
"This webinar gave me ideas, tools & resources that have given me confidence to try groups this summer. I am so glad I signed up just in time to start marketing!" ~ Julie Ingermanson, Piano Teacher, Missouri
"I LOVE LOVE LOVED the webinars and got so many great ideas from Colleen, Candace as well as Marie and others. So much so, that it renewed my enthusiasm to revisit the idea of teaching traditional group lessons as well!!!" ~ Maria Peterson, Piano Teacher, New York
"I just watched the first webinar today. Feel like I already got my money's worth out of it. Great stuff!!! Can't wait to get through the rest." ~ Betsy Ogden, Piano Teacher, Indiana