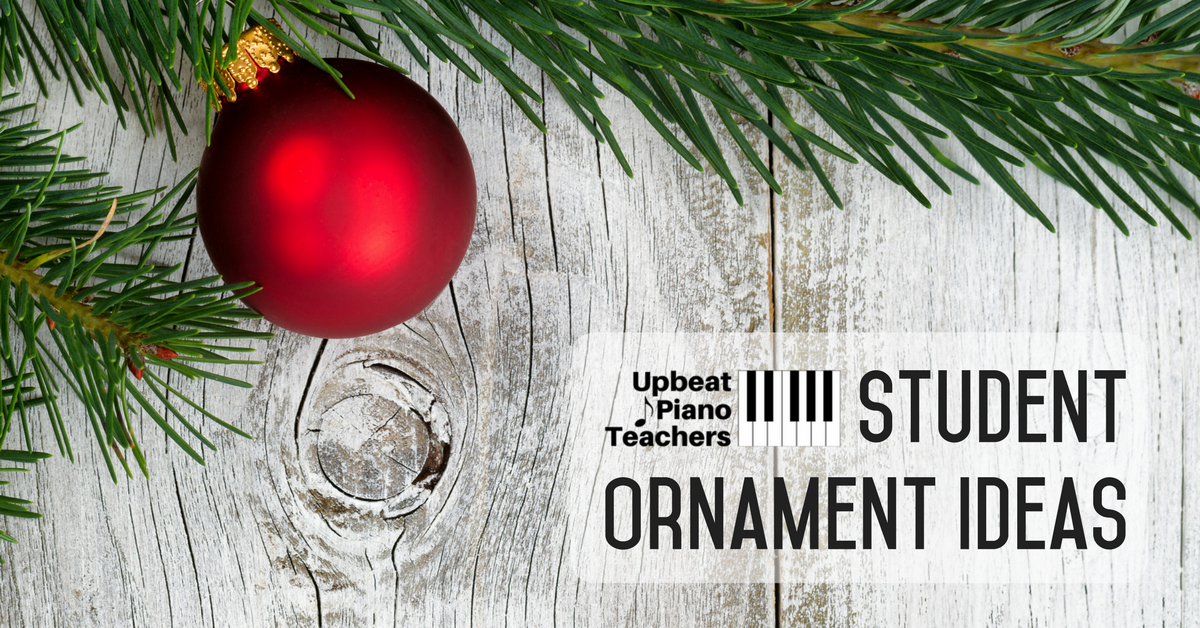 For the past five years I've given each of my students Christmas ornaments in December. It's my little way of commemorating the year and saying "thanks for being awesome" before they go on break.

This post includes instructions for three of my designs. These are generally easy to make and budget friendly! These ornaments were inspired by whatever I could find at my local Pat Catans. That's my kind of "Pinterest" shopping.

Remember... keep it simple. If a design looks too complicated or you think it will take up too much time, simplify! Last year (not shown), I found wooden music notes and just spray painted them black, wrote student names/years on them, and put a ribbon through them. Easy peasy.

(And if music crafts aren't your cup of tea, no worries! A little festive card or holiday snack works just as well.)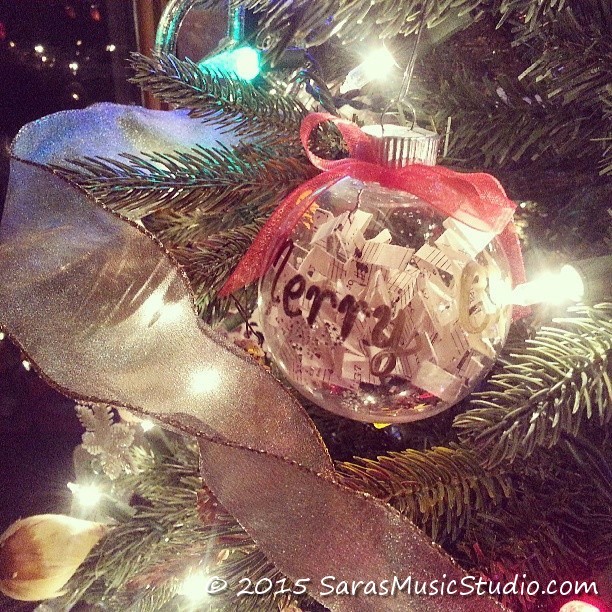 Music Glass Globe
Materials Needed:
Glass or plastic globe ornaments
Glitter of any color/size
Unused/old music (or print out your own! double sided is best)
Ribbon of any color
Metallic Sharpie marker (extra fine is best, but I used a regular one)
Paper shredder
Instructions:
Feed your music through a paper shredder. Stack the shredded music into "workable piles" (you'll figure out what works for you!) and fold them like an accordion. You may wish to cut the music in half — experiment!
Fill each ornament with the desired amount of music/glitter.
Glue the ornament top on to prevent spillage.
Tie a simple ribbon around the top.
Write your message! Mine said "Merry Christmas." You could also include your students' names.Music Stamp Tag Ornament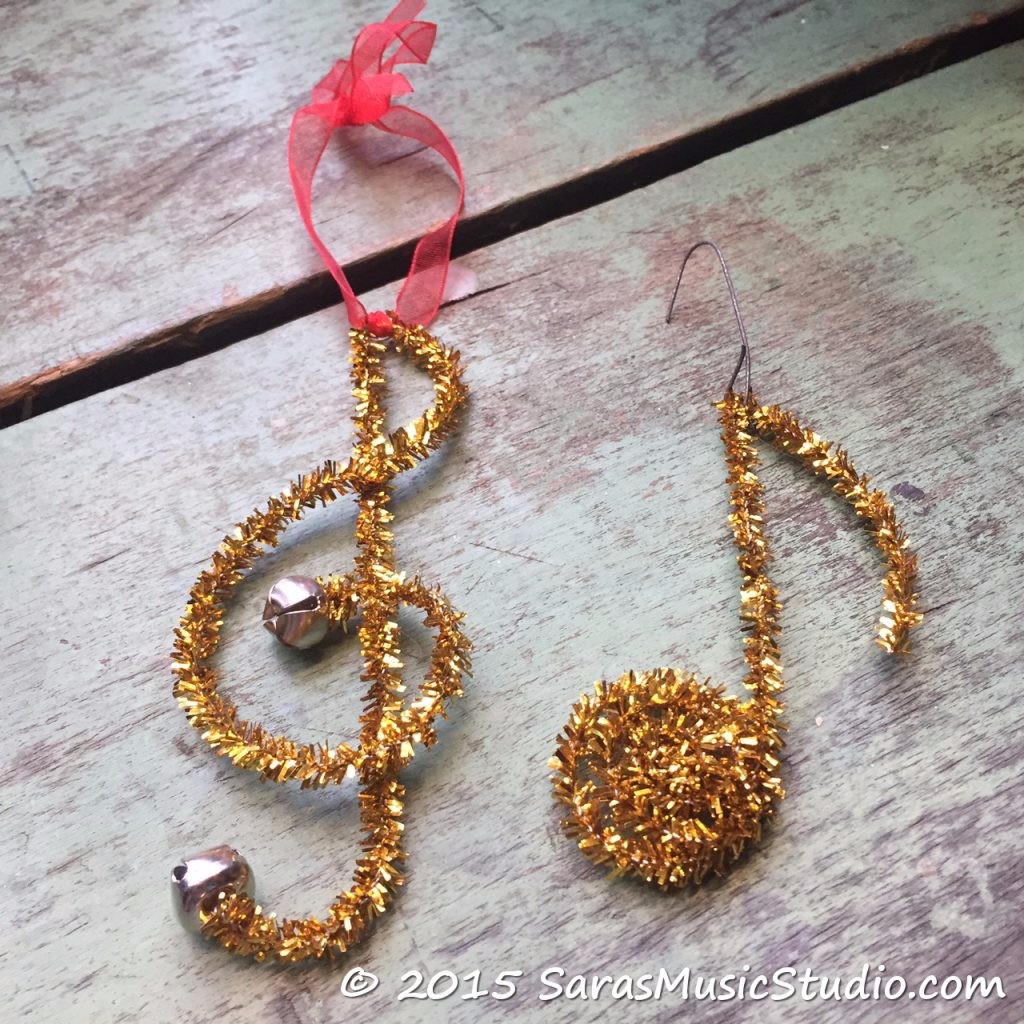 Pipe Cleaner Music Ornament
This a simple craft that your students can make at holiday get togethers!
Materials Needed:
Instructions:
Shape the pipe cleaners into music notes or treble clefs. This took a bit of experimentation, but you figure out a few, you'll be a pro.
Tie a ribbon or ornament hanger at the top.
Fix a small bell on the bottom/top if desired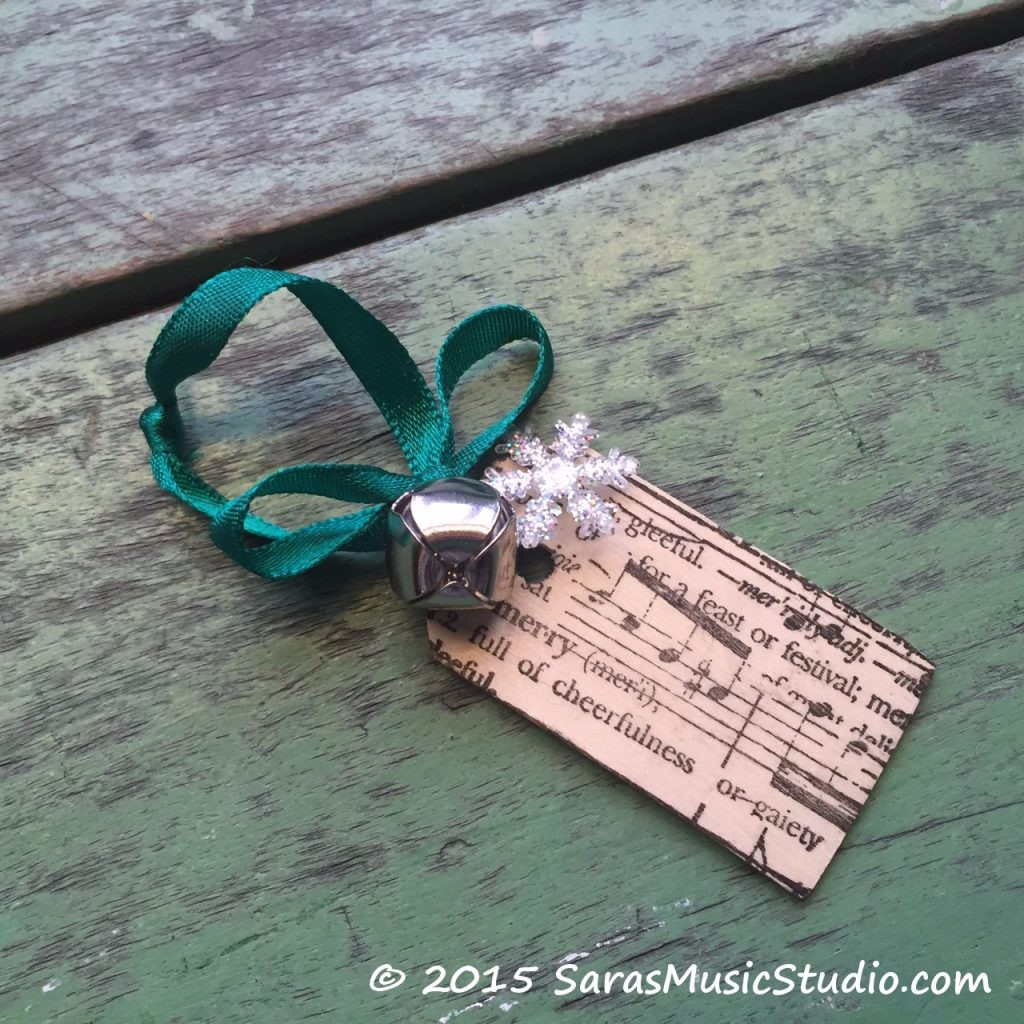 Wooden Tag Ornament
Materials Needed:
Instructions:
Stamp one side of each wooden tag with the music stamp. Set aside to dry! (Note: I found a stamp that had holiday music/words on it, but it would look just as nice with a regular music stamp.)
Once dry, you can decorate the other side – I wrote the year and Happy Holidays, Name.
Tie the tiny ornament to the tag (optional, but it does make it pretty!)
String a jingle bell onto a piece of ribbon and tie it securely through the tag, create a bow – use the excess to hang the ornament.
Looking for more ornament ideas? Head on over to Sara's blog and check out her other Music Ornament Tutorials.