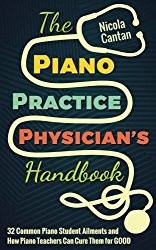 Now that it's October, the Upbeat Book Club is diving into a new read!
The Piano Practice Physician's Handbook with Nicola Cantan kicks off next week and we'd love to have YOU join us!

The discussion takes place in our FB group. Just request to join and we'll get your approved right away. We have such a good time interacting with one another!
Grab your book and join us! -- >> http://amzn.to/2yQVURq
P.S. Our courses are open! Keep yourself inspired with Upbeat Webinars that motivate AND educate. Use the code OCTOBER5 at checkout to get your discount. (But hurry - that coupon expires this Saturday, October 14th!)